Vacation Status Report: 20191215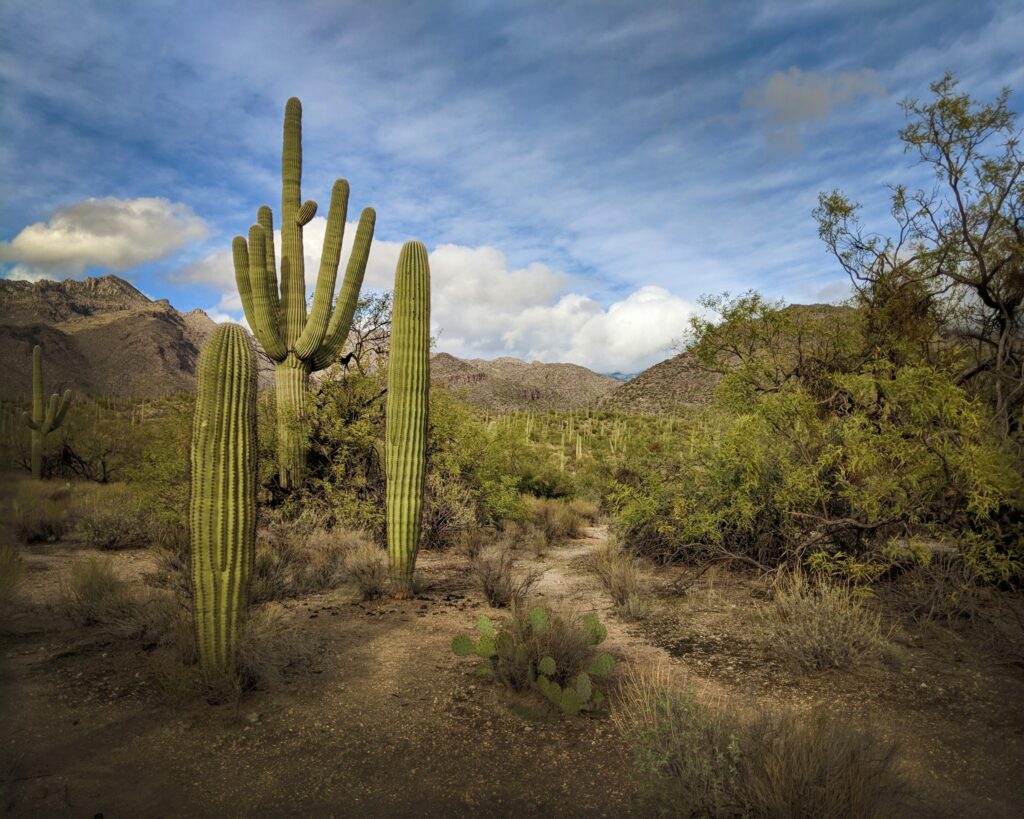 Tucson gets 52 days of rain per year. And 265 days of sunshine. Three of those elusive 52 days occurred during the Tucson portion of my vacation, which meant that for thirty percent of the time, I was not lounging by a pool. To continue my weather rant, the typical temperature in Tucson in late November and early December is about 70 degrees Fahrenheit during the day. In addition to the cloud-induced irrigation, we were be lucky to hit 60 on the thermometer dial for the duration. Oh, and did I mention the flash flood warning? Mountain hiking, not so much. Yes, I know, this is totally a first world problem.
Yet another first world problem. The culinary options were not impressive. I admit I am probably accustomed to a palate that does not seem to be overly represented here. Or, at least, I hope that's the case. We have mostly been making our own meals at our condo. But sometimes (okay, many, many times), it would be nice to have someone else feed you. And okay, maybe I was sticking my neck way out there to order Chinese. But there was an extra spicy option. What could possibly go wrong? Lots, apparently. I have been misled about the affinity for hot and spicy in Arizona. My "extra spicy" Singapore noodles (dubbed curry noodles in these parts), and "extra spicy" ginger chicken with broccoli could have been served to a room full of WonderBread afficionados without a single complaint.
On the plus side, I got to experience my first American Thanksgiving, with a room full of people, most of whom (except the Canadians) had no idea there was such a thing as Canadian Thanksgiving. But in the spirit, I forgave them. There was ham and turkey and mashed potatoes and scalloped potatoes and sweet potatoes and mac and cheese. All the requisite starches. No gravy, though for some reason. Maybe it was too much to have starchy meat juice on top of starch. And, of course, there were pies. Pecan pie, pumpkin pie, apple pie, cranberry pie, chocolate pie (Is that even a thing?), and sweet potato pie. I did not eat pie.
There's a weird notion about how loyalty programs work in these parts. The prices in Safeway are always threefold: the price, the price with a Safeway card, and the price with a Safeway card if you buy multiples. The good news is this pricing strategy also extends to the wine and beer aisle. To get a Safeway card, you ask the cashier to give you one. Nobody asks for any information like a name, address, or email. You can swipe your Safeway card in abandon, secure in the knowledge that nobody will be tracking any data that associates you to your purchases. The cash registers have readouts like reverse slot machines: once the inflated total is tallied, it rolls back the amount you actually need to pay as a Safeway "club member." It's kind of fun, really. And I would like to know who, in the history of this scheme, has ever paid the non-club price.
Basha's (Arizona's hometown grocer) also has a similar scheme, although they are much more laissez-faire about the whole thing. Basha's doesn't even bother to issue you a loyalty card (effectively admitting they don't collect any usable data). Each cashier has a one-size-fits-all loyalty card attached to the check-out station that they scan for anyone who asks. Curious and curiouser.
Then, we headed up to Phoenix for a few days, at which point we added seventy-two more rain-soaked hours to the trip. Our destination was The Boulders, a swanky golf (don't) and spa (do) resort just north of Scottsdale, which is now owned by Hilton. I secured it on points and therefore managed to avoid paying out-of-pocket for the $300 US a night and the currency exchange rate. Did I say the Boulders is fancy? Yes it is. "Relieve the stresses of day-to-day life in one of our relaxing, Sonoran Desert-inspired accommodations. Choose from adobe Casitas, Executive Suites, Villas, Haciendas and the Villa Retreat, each uniquely designed with elegant southwestern décor and featuring cozy and authentic amenities like wood-burning fireplaces, beamed ceilings, and natural stone showers," says theboulders.com  And indeed this is true. Except for the bedbugs. Which, I can accurately say, is not a first world problem. Except when it is.