Good Morning, Little School Girl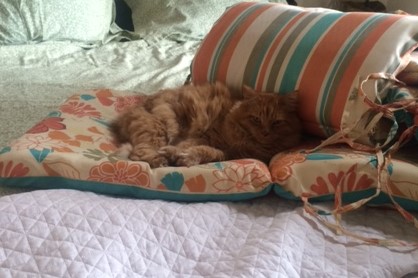 I'm already beginning to regret going back to school. "But didn't you just graduate from something? Didn't you already go back to school?" some of you might ask. And yes, I did, graduating just this spring. Part of the class of 2020 that will be forever remembered for its unique graduation circumstances, until the class of 2021 encounters the same thing, and maybe the class of 2022 as well. But school was so wonderful I thought I should have more. This resulted in signing up to do a second undergrad degree forty-three years after I completed the first one, free of tuition expense due to my advanced age.
One thing I can tell you is you forget a lot in forty-three years, but some things you don't. You don't forget wearing the cotton gauze shirts from the stores that lined Yonge Street, alternating with the head shops and army surplus outlets. Shirts that smelled like patchouli and Coty Wild Musk, which were washed at your own peril, if you ever wanted to wear them again, because they shrank to Barbie size at the mere suggestion of being introduced to water. You don't forget the joyous innovation of corrasable-bond typing paper, which removed the pain of using carbon paper, but ended up with holes in it if you tried to erase the same mistake too many times, and had the unfortunate tendency for the words to vanish like they were typed in invisible ink. And, of course, you don't forget the chaos of the Fleetwood Mac concert at Exhibition Stadium or the marvelous Chicago cover band that played at the semi-formal dance (flowered, ruffled, maroon velvet dress with spaghetti straps that tied at the shoulder, regrettable perm).
What do you forget is that your undergraduate career was the source of those anxiety dreams that have been haunting you (okay, me) for the past forty-three years. The one where you arrive to take an exam and realize you have never attended the lectures for this particular course, let along done any of the assignments. The one where you forgot to take a course and cannot graduate unless you do all of the readings and essays in one day. And, the one where you realize you are sitting in the lecture hall completely naked (or in this world, attending the Zoom lecture completely naked, a thing that is probably bound to happen somewhere, sometime, but hopefully not to me).
So far, the university's e-learning platform has lost its mind several times, including a forty-eight-hour outage last weekend. So far, my professors are proving they are less than proficient at the online technology, even though they've had many months to figure it out. And so far, I've slogged my way through a million pages of academic-speak, used up one entire highlighter, and written several useless and meaningless "class participation" comments on things posted to the class participation forums, just to make sure I get the entire ten-percent allocated towards the final mark.
My conclusion, therefore, is that only an idiot does another undergrad, especially after already obtaining multiple graduate degrees. This kind of idiot.