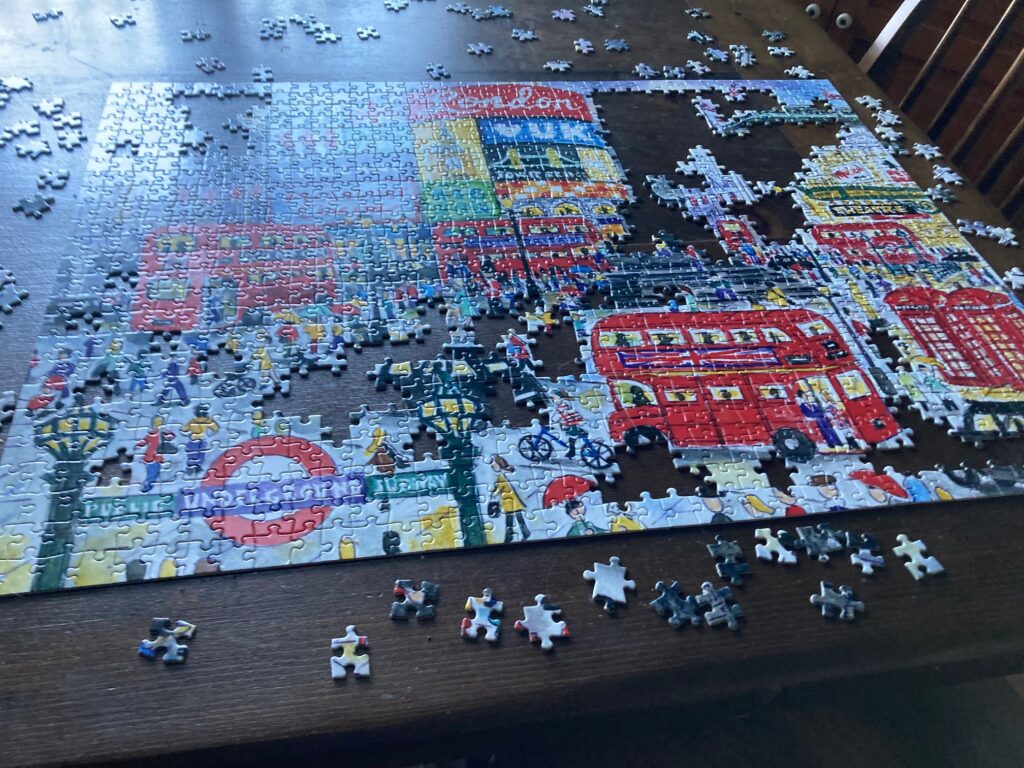 Like many of my cohort, I am in deep denial with respect to my chronological age. In my head, I am in my early forties, officially grownup but still able to stay out way too late on a school night without dire consequences. The money the government sends me every month tells a different story. Which probably explains a couple of things that have happened lately.
One is that I have started doing jigsaw puzzles. I am not exactly sure when this happened, sometime last summer I think, but there is now always a jigsaw puzzle at some stage of completion on the far end of the long dining table. At the beginning, I flexed my muscles with a few 500-piece versions, but am now regularly wrangling 1000 evil bits into pictures of moose, Irish doors, cats in a candy store, and bookstore shelves. In my own defense, this only happens at the cottage, and I try not to spend more than five or six hours at a stretch wasting my time in this manner, because I have also acquired another time waster: crossword puzzles.
Let me explain. I have a subscription to The New Yorker. I like The New Yorker because of the cartoons (of course) and because there is lots to read (although sometimes it leans a little too far into U.S.-centric topics like heat waves in Portland and the school shooting du jour). There is so much to read that frequently I do not make my way through one week's offering before the next arrives. This is not a problem because I can leave them in a precariously tall pile on an end table at the cottage and graze through them on a rainy day. The New Yorker has recently added a new feature. There is now a crossword puzzle on the page after the Cartoon Caption Contest. I don't remember the exact moment when I picked up a pen (Not a pencil. I do have some semblance of dignity) and began to idly fill in the answers to clues. It took me about an hour to finish the whole thing. Maybe not completely correctly, but there was a letter in each square that required one. A sense of satisfaction ensued.
At that point, I began to wonder if there was money to be made in being a crossword prodigy, since my very first one was done and dusted in record time. I was even able to instantly recall the "2016 movie musical with a dance number in the Griffith Observatory" even though that was six years ago and sometimes things that happened last week are less than crisp around the edges. Anyhow, Mr. Google tells me there is an American Crossword Puzzle Tournament every year. The grand prize is $3,000 U.S., easily $100,000 Canadian these days. There are age categories at the ACPT: juniors (25 and under), fifties (50 to 59), sixties (60 to 69), seventies (70 to 79), and seniors (80 plus). While I am relieved to not be classified as a senior, there is something a little disconcerting about these classifications. Unless you are under 25 and probably trying to be ironic, you must be in your fifties to even be allowed to participate. This is clearly not a club to which I aspire to be a member.
Then I noticed the subtitle at the top of the crossword page. It said A beginner-friendly puzzle, which implies that even beginners are supposed to know the name of the "Puccini opera whose title character is an opera singer." Evidently, The New Yorker is dangling a gateway drug to dupe people like me into thinking crossword puzzles are fun. And age appropriate. Luckily, I uncovered their plot before I fell prey.
But please do your part to help me out. If I start mentioning going to the bingo hall, you know what to do. Call 911. Immediately. Because clearly I have lost my mind.