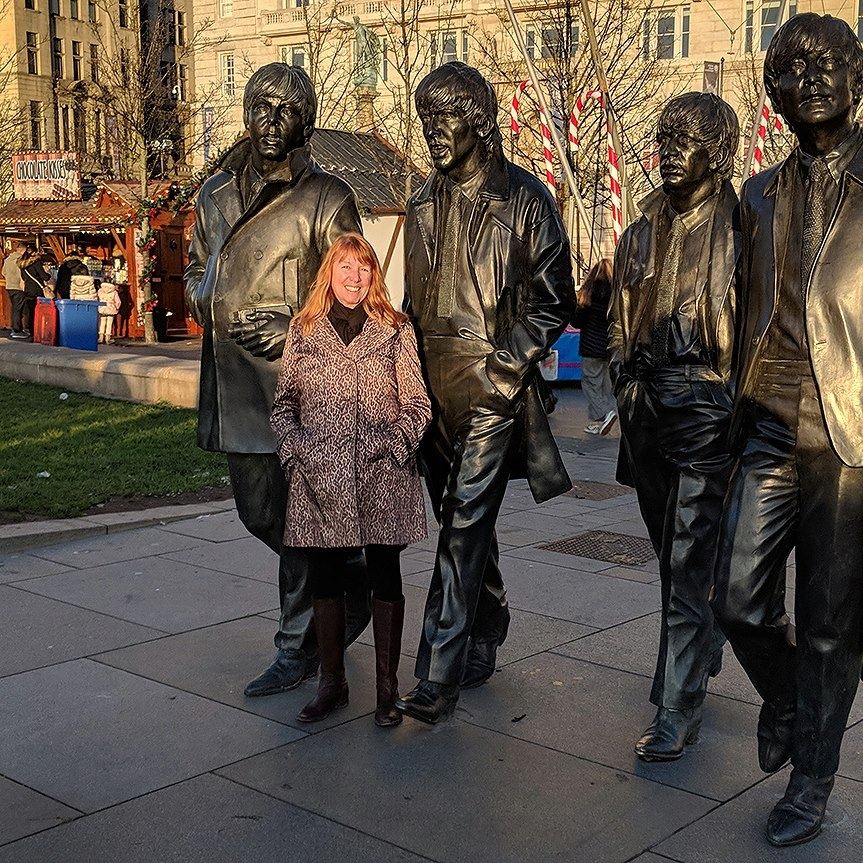 There is an article in this month's Vanity Fair about a movie that's going to be released on Disney+ in November. It has been salvaged from reclaimed footage of the Beatles' final live appearance, filmed while recording the tracks for the Let it Be album in January 1969, on the roof of the building that housed the Beatles' Apple recording studio. There are many problems with this article. And I have no hesitation about telling you what they are.
Disney+? That's just plain embarrassing for all involved, especially the audience. The psychedelic-drug-fueled, tie-dye wearing, unkempt hair, waning days of a group that had worked hard to jettison the "yeah, yeah, yeahs" has been relegated to the Disney channel, as if they were part of a sepia-toned, happily-ever-after fairy tale. I'm thinking Yoko Ono would have a few things to say about that. To have our counter-culture, woman-liberating, dope-smoking, youth associated with the heart-warming stories we watched on The Wonderful World of Disney on Sunday night, cooling our heels at the curling club, eating dubious hotdogs while waiting for our Mad Men era parents to finish their recreation so we could finally go to bed, well that's just pathetic.
There are several photos of all four Beatles, individually and collectively, that accompany the article. Delightful Paul. Goofy Ringo. Introspective George. Earnest John. Being a magazine that wants to make sure its readers know what they are looking at, Vanity Fair supplies detailed captions for every photo to explain which Beatle is which. As if we don't all have the images of John, Paul, George, and Ringo (the order in which they were always listed, their rank of importance one might think), etched onto our retinas. The photos of the Queen that graced our classroom wall never required a plaque that said "The Queen." Nor do the Beatle statues that are scattered around downtown Liverpool find it necessary to point out who is who. It's kind of like going into Tiffany's to buy jewelry and noticing there are no price tags. If you have to ask…
Leslie Rachuk, who lived at the bottom of Newton Crescent in Deep River back in the day, had the audacity to attend the Beatles concert in Toronto at Maple Leaf Gardens in 1964 and also had the nerve to design the town of Deep River crest that graced the front of my t-shirt when I was a playground leader in 1971. That shirt was a constant reminder of my failure to enter the rarified air of a stadium in the presence of the Beatles. Because by then I had exhausted even the most remote possibility, since the Beatles had broken up in September 1969. Front page news.
No doubt, there will be a coda at the end of the movie telling us where they all are now. John murdered. (Front page news.) George succumbed to cancer. (Front page news.) Paul's wife Linda died. Paul married a gold-digger. Paul got knighted. Paul divorced the gold-digger. Paul sought custody of gold-digger's daughter. Paul married New York socialite. (Okay, maybe not front-page news, but certainly above the fold on page two, and certainly on many covers of People magazine. National Enquirer, even.)
And, if I had only known, I would not have battled so hard over claiming Paul for my prepubescent husband. Ringo is now the good-looking Beatle. A long and winding road, indeed.